Non-surgical Facial Balancing and Filter Packages
Reshaping your face without plastic surgery.
With the combination of fillers and threads we provide services with minimally invasive to none downtime that will sculpt and contour the face without the need of surgery.
Types of procedures performed in Facial Balancing
Advanced Treatments for Wrinkles and Facial Slimming.

Tear Trough and Midface Rejuvenation.

Cheek Contour.

Jawline Definition.

V-Line Contour.

Nose Contouring and Pixie Tip Lift.

Lip Shaping and Definition.
How is Facial Balancing done?
Our MD Experts at Beiamed will custom your packages based on your unique needs to determine the proper combination of procedures that will enhance your facial features. We apply topical and localized numbing to make the procedure more comfortable and pain free; we then start the process gently, to create the lifting and contour results you want. 
You can immediately return to your normal routine after your nonsurgical procedure
A PDO thread lift is a non-surgical procedure that lifts and tightens sagging skin, creating a firmer and more youthful appearance. The revolutionary procedure can transform various body parts, including the cheeks, jowls, neck, eyebrows, nose, and abdomen. The process involves introducing PDO (polydioxanone) collagen threads under the skin to reposition saggy or fatty pockets while stimulating natural collagen production for a lasting lifting effect. The treatment only takes about 30 minutes, often called a "lunchtime lift," and you can resume your daily routine immediately after. Additionally, it effectively reduces the appearance of dark circles under the eyes, providing a more refreshed look. Book your appointment online today.
What advantages does a PDO thread lift offer?
If you're looking to tighten sagging skin without invasive surgery, a polydioxanone (PDO) thread may be the perfect solution. This non-surgical treatment, available to patients in Miami, FL, offers several benefits such as:
Longer-lasting effects compared to other non-surgical rejuvenation options like filler injections.
Stimulates collagen production, which provides lasting and glowing results.
Gives you confidence in your youthful appearance.
It is a minimally invasive yet highly effective procedure.
HOW DOES A PDO THREAD LIFT WORK?
Before the procedure, one of our staff members will have a conversation with you regarding the process, what outcomes to expect, and how the treatment can be personalized to meet your desired results. A topical anesthetic cream may be administered to the targeted areas to ensure comfort during the procedure. During the treatment, we will utilize a delicate needle to place PDO threads into specific areas of your skin. The threads will then be carefully stretched to create a lifted and more youthful appearance. Additionally, fillers will be injected into sunken areas under the eyes to create a fuller look. This procedure does not require any incisions or cuts.
After undergoing the procedure, it is possible to experience temporary mild inflammation and redness. It is advisable to avoid heavy exercise and activities for several days. Additionally, it is recommended to keep your head elevated for several days. You will start noticing the rejuvenating results after a week. The threads used in the procedure promote elastin and collagen growth, and the improvements will continue to develop for the next 12-18 months. Generally, a single PDO thread lift procedure is sufficient to achieve visible outcomes. Still, some individuals may prefer to have follow-up treatments over the next two years to maintain their youthful appearance.
AM I A GOOD CANDIDATE FOR PDO Threadlift?
The ideal candidates for a thread lift are typically individuals between the ages of 35 and 65 who want to improve the appearance of their skin without undergoing invasive procedures. The procedure helps to promote collagen production and treats sagging or wrinkles on the neck and face. It also effectively reduces visible signs of aging, such as fine lines around the lips, creases around the mouth and nasal area, drooping jowls, and sagging skin. Unlike wrinkle relaxers and dermal fillers, thread lifts offer longer-lasting results. If you are considering a PDO thread lift, we will assess your suitability during your consultation in Miami, FL.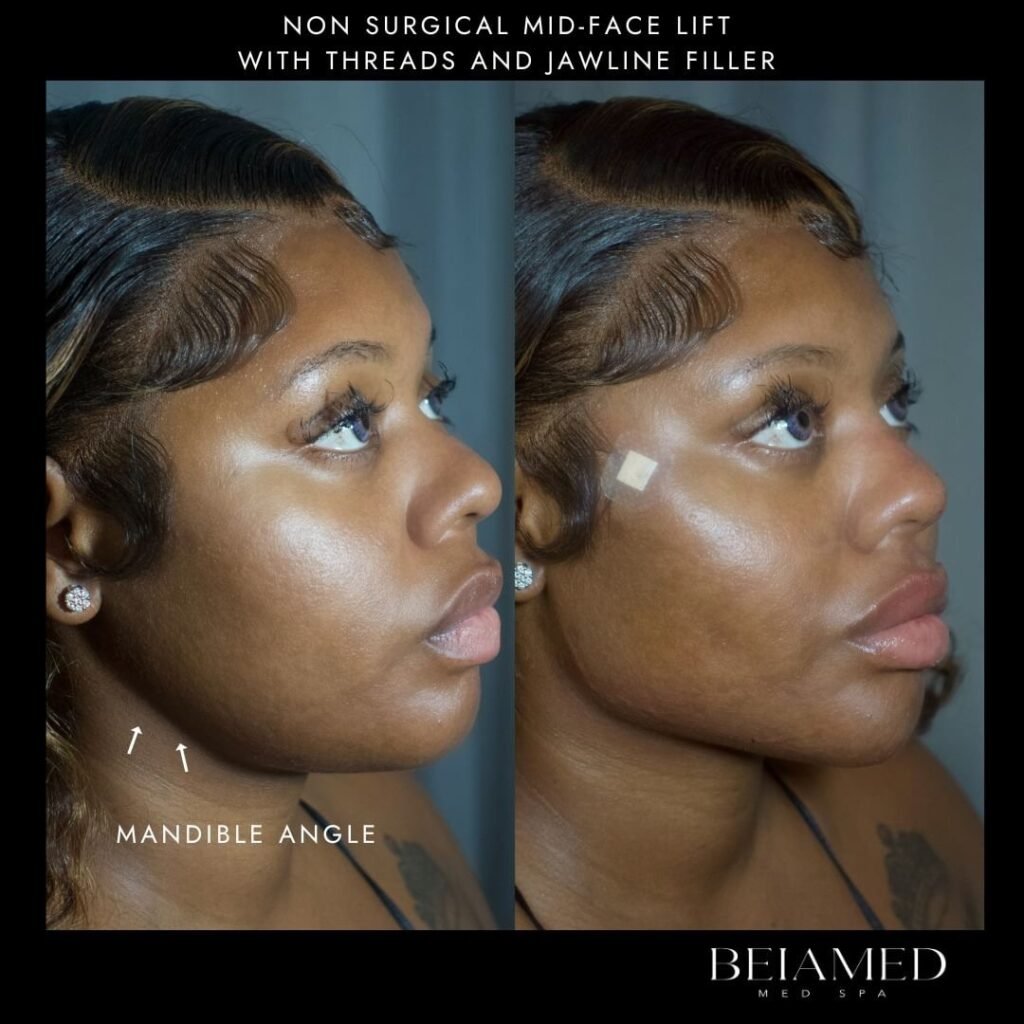 WHAT SHOULD I EXPECT FOLLOWING A THREAD LIFT?
After a thread lift, it's typical to experience temporary inflammation and redness. You should avoid strenuous activities and keep your head elevated for the next several days. You will begin to see the rejuvenating effects within a week. The absorbable threads stimulate the growth of elastin and collagen, leading to improvements lasting up to 18 months. Most people only need one PDO thread lift procedure to achieve great results, but consider follow-up treatments over the next year or two to maintain your youthful appearance.
2253 SW 22nd Street,
Miami FL 33145
All our initial consultations are FREE. You could text us right now